GPEF helping turn students into newspaper journalists
#GivingTuesday is opportunity to support the cause during trying times
Georgia Press Educational Foundation is one of many worthy causes that deserve support throughout the year.
But in a time when the news media and journalists are under attack as never before, the foundation's mission to encourage people to consider the newspaper profession for a career seems more vital than ever. Supporting young people already seeking a career in the field is also critically important when there's so much to discourage them.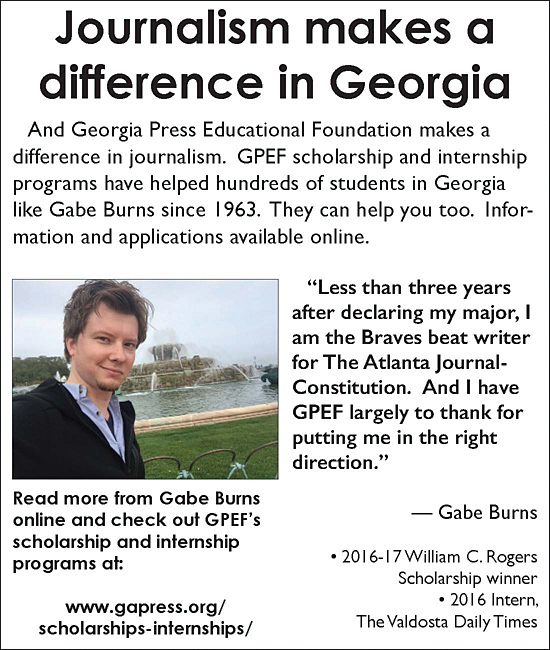 That's why GPEF leaders hope you'll support the foundation on Giving Tuesday in late November. The day follows Thanksgiving, Black Friday and Cyber Monday and has been adopted to encourage people to donate to their favorite causes.
"For anyone who believes in the power of the press to stimulate critical thinking and social reform, serve as a check on government, and help make our communities better places to live and work, contributing to the GPEF is a great way to support those values," said Rick Harris, chairman of the board of trustees for GPEF. "For anyone whose livelihood depends wholly or partly on a strong newspaper industry, contributing to GPEF is one of the best ways to sustain the business. High-visibility media scrutiny only intensifies the urgency to invest in attracting the best and brightest people to careers in newspapers."
In 2018, the foundation awarded scholarships totaling $11,000 to be used by six students at Georgia Southern, Mercer University, Savannah State, University of Georgia and Valdosta State University for this school year. That matches the total annual funding awarded for each of the past three years to students at those universities and others in Georgia.
GPEF made a total of $22,500 available to 15 newspapers to support internships, mostly during the summer, for students interested in the field. It matched the funding the foundation has awarded each of the past three years to members of Georgia Press Association.
To support newspaper journalism, GPEF needs your support on #GivingTuesday. Make a donation by calling 770-454-6776 or mailing a check to Georgia Press Educational Foundation, 3066 Mercer University Drive, Suite 200, Atlanta, Ga. 30341. We'll note your donation in the December issue of Georgia Press Bulletin and the GPEF webpage.
If you'd like, announce your donation on Twitter with the hashtag #GivingTuesday and tag us at @Gapressassociation, and we'll retweet it with our thanks!
MDJ, Huff produce WWII veterans movie
By Dick Yarbrough, Marietta Daily Journal
Even the most casual reader knows the work of Kelly Huff, the Marietta Daily Journal's much-honored chief photographer. Be it breaking news, an Easter sunrise service or Friday night football, Huff's photographs capture the essence of the moment and he has a roomful of awards to prove it.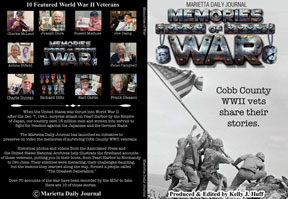 There is another and even bigger reason to appreciate the man. He has taken it upon himself to document first-hand accounts of the Greatest Generation, our heroes of World War II living in Cobb County. Huff has interviewed and videotaped 71 veterans thus far from all branches of the service, both men and women. Some are native-born residents, others are from different parts of the country. All call Cobb County home today. You can go to mdjonline.com, click on the "Memories of War" icon and see the interviews that Huff has done.
On Nov. 11, the world premiere of "Memories of War" chronicled 10 of those remarkable heroes. Fittingly, that happens to be Veterans Day.
The program featured a concert by the Marietta chapter of the national Barbershop Harmony Society and the Big Chicken Chorus performing patriotic medleys and a pre-show array of patriotic music.
It was billed as "A celebration of our veterans and an invaluable insight into the Second World War from those who experienced it first-hand" and "a must-see for any supporters of the men and women who gave everything for their country and anyone with an interest in WWII history — directly from the ones who lived it." s
So how did Huff's passion for this project begin? His son, Judson Kelly Huff, is in the U.S. Navy, aboard the aircraft carrier Abraham Lincoln. "I was looking through some YouTube videos about carriers," he said, "when I came across a piece about veterans and how young people didn't appreciate their sacrifices. It really touched me."
Huff presented his idea of documenting the stories of the men and women of Cobb County that served in World War II to J.K. Murphy, the MDJ's vice president of content, and suggested he look at the video. "He agreed," Huff said, "and about 30 seconds in, he stopped it and asked me if this was going to make him cry. My response was, 'If it doesn't, something is wrong with you.' " Needless to say, Huff was given the green light to proceed.
I have seen the documentary; it is powerful stuff. I asked Huff what has stood out in his interviews with these veterans. "To a person," he says, "they are extremely humble. I keep hearing over and over, 'I just did what everybody else was asked to do: Defend my country.' " Did they ever. More than a few shed tears at what they experienced, the friends they lost and, yes, the atrocities of the enemy.
Huff says, "Each one has taught me something about heart and bravery. They are a generation we are losing way too fast. Hopefully one day soon, people will start learning from the Greatest Generation before it is too late." I agree. Every school in Cobb County should make this program required viewing.
Final report on paper tariff ruling issued by U.S. Trade Commission
The U.S. Trade Commission ruled in August that tariffs imposed on Canadian paper used for newsprint should be removed.
In October, it released a detailed report on its investigation and decision.
The key point: "Based on the record in the final phase of these investigations, we determine that an industry in the United States is neither materially injured nor threatened with material injury by reason of imports of uncoated groundwood paper from Canada found by the U.S. Dept. of Commerce to be sold in the U.S. at less than fair value and to be subsidized by the government of Canada."
Among the commission's findings were that the decreased demand for domestic uncoated groundwood paper is due to newspapers switching to lighter newsprint, which allows them to produce more pages per ton, and increased use of digital media, not imported paper.
While one U.S. producer was responsible for the complaint that resulted in the tariffs on Canadian paper, other domestic producers that participated in the trade commission's investigation indicated that they had cut production capacity, resulting in U.S. industries that rely on the paper to turn to the foreign market for supplies.
The commission also noted that it was unlikely that domestic producers would ramp production back up: "The limits on the ability of subject producers to produce uncoated groundwood paper on machinery producing other products, and their lack of incentive to do so given the secular decline in demand for uncoated groundwood paper that has led them to shutter … paper facilities or shift production to other products, make the potential for product shifting unlikely."
Those factors led to the commission's ultimate — and for newspapers, most important — conclusion.
"In view of the foregoing, we do not find that subject imports are having a significant impact on the domestic industry," the commission reported.
To see the entire report, go to: https://www.usitc.gov/publications/701_731/pub4822.pdf
Day of destruction: Newspapers survive to chronicle Hurricane Michael's devastating blow
Two by fours flying through the air like arrows. The roof of the police station torn away, impaling his car parked on the street. The shards of glass from his apartment's front windows found embedded in the back wall.
Listen to David Maxwell describe how Hurricane Michael slammed into downtown Donalsonville, and you'll shake your head at the harrowing images in disbelief as chills crawl up and down your spine.
Maxwell rode out Hurricane Michael in his apartment over the office of the Donalsonville News, where he is editor of the weekly newspaper. The historic storm, rated a Category 4 when it made landfall, was one of the most powerful to ever hit the U.S. when it struck the Florida coast on the morning of Oct. 10. It was still blowing winds of more than 100 miles per hour when it blasted into Donalsonville and all of southwest Georgia later that day.
Maxwell spent four hours huddled with his dog in his bathroom listening as Michael battered away. He heard the roof of the historic fire department — located a block away — crash into the newspaper's office below.
With the wind ripping and tearing at every structure, "it was like downtown was screaming," he said. And then, for 30 minutes, as Michael's eye wall passed directly over town, "it was like a sunny day. It was so unnerving because you still had the anticipation of going through it again. I've never been so scared in all my life."
Somehow, Maxwell survived. And thanks to a lot of hard, emotionally difficult work and the generosity of friends and other newspapers in Georgia, the News didn't miss an issue.
Neither did other newspapers that were directly in Michael's path in Georgia, though like the News, they suffered damages, went days without power or Internet access and had employees dealing with their own personal losses.
In Bainbridge, as the storm raged, Post-Searchlight editor Powell Cobb waited in the hallway outside his downtown apartment when collapsing brick spires on the roof damaged the building's sprinkler system. The lobby flooded, and for hours, the fire alarm wailed away.
Finally, at midnight, when the storm passed, with his building declared unsafe, he went to the newspaper's office and spent the night in a sleeping bag on the floor. At 6:30 a.m., he got up and went out to begin reporting on the disaster.
In the days after, he stayed with friends before finding a new place. His own car was destroyed by more falling brick. Post-Searchlight Publisher Mark Pope's wife's car was also totaled when a tree fell on it.
"Every employee had something that was damaged," Pope said. "A tree on a house or a tree on car. It's the new normal to talk about your damages when you see someone. It's amazing that we only had one fatality in Georgia. When you see the destruction that happened — and even one death is too many — there could have been so much more loss of life."
Recovery will be a long process. The roofs of most buildings are blue because of the tarps strapped across them. Maxwell says most roads in Seminole County have six-foot piles of debris alongside waiting to be collected. Some schools were still out weeks after the storm and some houses in more remote areas won't get power restored for weeks more.
But in all these places, newspapers will be there to chronicle the cleanup and keep their residents informed about it all. That none here missed publishing a single issue speaks to the dedication of the people responsible for the work, in places like Donalsonville, Bainbridge, Blakely, Colquitt, Cairo and Camilla.
"My reporter here is fairly new, and he assumed we wouldn't do a paper the week after [the storm]," said Sonja Stroyls, publisher of The Camilla Enterprise and the Pelham Journal. "I said, 'As long as I'm here, we're going to get a paper out.' "
In the bull's eye
That type of resolve was popping up in southwest Georgia before Michael even made landfall.
Compared with Hurricane Florence earlier this year, there was little advance notice of the fast-moving storm and forecasts did not predict its strength until the last hours before it hit. But the timing of a Wednesday afternoon strike pushed Pope into moving up the weekly printing schedule at the Post-Searchlight, where most of the other weekly newspapers in the area — and some from Alabama and Florida — are printed.
He wanted to make sure that all of his other newspaper customers were done and could be delivered without being affected. "Our busiest print days are Tuesday and Wednesday. On Monday, I started calling some of our customers and told them, 'If you are going to print, get here on Tuesday, and we'll get you done,' " Pope said. "As it turned out, we printed all day Tuesday until about 4 a.m. on Wednesday."
After driving to Cairo with copies of that week's edition of The Messenger, Pope and Maxwell met at a diner for coffee while the Donalsonville News was being printed in the wee hours of Wednesday morning. "We sat there less than 12 hours before it arrived," Pope said. "Nobody still was overly concerned. We knew it would be bad, but nothing like it was."
While his boss worked to get other newspapers printed, Cobb prepared for covering the storm's aftermath for The Post-Searchlight's Saturday edition. The paper publishes twice a week.
Little did he know how directly he would be affected by the hurricane.
The winds picked up in Bainbridge about 3:30 p.m., he recalled. "People describe tornadoes as sounding like a train going by," he said. "This was like that. It was like a train but it didn't go away for five or six hours."
The decorative brick spires on the roof of his downtown apartment building couldn't take the constant pounding and began crashing down, either on the cars parked on the street out front or on the top of the building itself.
When one came through the roof of a neighbor's apartment, Cobb and others evacuated into the hallway. "We couldn't leave, and the power was out and then the fire alarm started going off," he said. "It was eight hours of listening to the fire alarm ringing sitting in the hallway."
After the storm passed, residents were told they could not stay in the building, so he gathered a few things and headed for the newspaper office to try sleeping for a few hours before getting to work.
Pressing forward
Cobb got up at first light on Thursday morning, grabbed a camera and ventured out to take photos. "It was worse than what I could ever have imagined," he said. "We weren't expecting anything close to what Hurricane Michael did. It was like something from a war zone. You're looking around and seeing all these familiar spots just destroyed … It was unrecognizable in most areas."
For others, the day after the storm was spent mostly trying to cut a way out of neighborhoods and roadways choked by downed trees and other debris. Pope had to cut two trees out of the road just to go 100 feet from his home.
When he got to The Post-Searchlight building, a power pole was laying on it, and it was missing its shingles.
It was like that other places too.
At the Donalsonville News, the front of the office had a hole punched in it from the fire station roof. The staff has had to move into the back of the building to work.
At The Camilla Enterprise, the roof of a neighboring building landed on the paper's loading dock. "Thursday, nobody worked. We couldn't get here because there were so many power lines down," Stroyls said. "We all came in on Friday, and that's when we started."
But how do you start when there's no power and spotty computer communication with the outside world?
Generators, for one. Borrowed internet from the kindness of neighbors for another. Using cell phone hot spots to connect too. Driving out of town to find supplies, power and connectivity.
None of it was easy. Maxwell — the only editorial staffer in Donalsonville  — was reporting, photographing, writing and designing the News. It was hot, hard work, and it was complicated by the tears that were coming on a regular basis. "It was an edition I don't ever want to do again," he said. "Every single thing I did was literally while I was crying. It was extremely emotional. It was like a war zone."
It was days before power was restored for most of the affected newspapers. Generators were the order of the day, but even with some power, networks were down, and connectivity was a problem.
"It blew out our server and we still don't have internet service," said Terry Toole, publisher of the Miller County Liberal of Colquitt. "Our power just started back on Monday (Oct. 29).
"We're doing it on a drive about the size of half a park of cards. This is the worst thing I've seen in my 83 years. We've got three [phone] lines, and only one works sometimes. Our internet, we're stealing from somebody else next door. If they didn't have it, we wouldn't have gotten a paper out the next three weeks. We're working three computers off nothing."
Similarly, at The Enterprise, Stroyls said the staff got out its first post-Michael  edition running just two computers. It was put on a flash drive and then driven to where internet service could be found so it could be sent to the printer. "We got it out with no phone lines and no Internet," she said. "I've been in the newspaper business for 30 years, and you just know that if you have to get it done, you do what you have to do to get it done. I would've driven to Atlanta for internet service if I had to."
While The Post-Searchlight was without power, its press could not run. Pope called Vince Cribb, production manager at The Valdosta Daily Times, who offered to print the Saturday, Oct. 13, edition of the paper. Offers flooded in from other newspapers for help with reporting, pagination, website updates and printing. (See story above.)
Meanwhile, journalists like Cobb and Maxwell were working to get critical information about relief and recovery efforts to their residents. It was hot and humid work, done with no power and no air conditioning, not to mention the stress of the situation. But they did it because it's what newspapers do when tragedy comes.
"People sometimes don't understand that we have a job where we've got to go out and report what's happening [no matter the circumstances]," Pope said. "I'm happy that we did what we did. We got the news out to the community, and I hope our staff never forgets what they've accomplished."
Cobb learned just three days after the storm that he was going to have to move out of his apartment. He stayed with friends for several days, and now has a new apartment. Being busy helped during that time.
"I think it was almost comforting to be able to do the job I have been doing everyday for the past five years," Cobb said. "I report the news and that day the news was a hurricane that ripped apart the town. It was a sense of duty. I think if you would ask a lot of our readers who were reading the news on their phones, it was a comforting thing knowing that their newspaper had boots on the ground.
"We were finding out things like, 'How soon is the Salvation Army and Red Cross going to be getting here? Where can you stay if your house has a tree in the roof?' We want to get it out there so someone can use it. It was a sense of duty — that's what we had to do. No one else could share that information with such a wide audience."
As challenging as it may have been with spotty delivery and no power, people made sure to keep up with the news. The Post-Searchlight recorded nearly 40,000 more page views in October than previous months. People rely on their newspapers to provide information in times of crisis.
Maxwell said Seminole County residents have told him that the News was their only source for information. Though he often wondered whether he could get through it, he persevered because he knew they were relying on the newspaper.
Others in these communities recognized the importance of newspapers too. In Bainbridge, the local hospital gave Cobb and other Post-Searchlight journalists a storage area to use to charge phones and computers and to work. Several area publishers worked with helpful elected representatives to get power restored to The Post-Searchlight as quickly as possible to get the press running again.
As hard as they worked to keep information flowing, the work of recovering won't be any easier for these newspapers or their communities.
There are estimates from the Georgia Dept. of Agriculture of a $600 million loss in cotton, $480 million in produce and $560 million in pecans. The Georgia Forestry Commission reports 79,000 acres of forest are a complete loss.
Schools were closed for weeks after the storm. In Seminole County, it took until November for schools to open in temporary locations. Most structures have blue tarps to protect damaged roofs, and it will take months, even years, for repair work to be completed.
For southwest Georgia, Hurricane Michael will be a touchstone event, with generations referring to times as "Before the Storm," and "After the Storm." Pope worries whether Bainbridge will ever fully recover and how long it might take.
One thing he knows. He won't stay for the next storm. "My wife had mentioned the day of the storm, 'Why don't we leave?' I thought, 'It won't be that bad, and if something happens, we need to be here.' But not anymore. In the future, we leave in a heartbeat. It was as scary as anything I've ever been through."