GPA's 131st Convention celebrates American values
Scott Buffington, left, of Mainstream Newspapers in Jefferson, accepts the president's gavel from Don Bailey as Buffington becomes Georgia Press Association's new president.
When planning began for the sessions at Georgia Press Association's 131st annual convention several months ago, Donald Trump had just taken the oath to become president, in part, on the strength of a campaign that attacked the media and "fake news."
It seemed appropriate then, to invite Charles N. Davis, the dean of the University of Georgia's Grady College of Journalism and Mass Communication, to discuss how to answer critics of local newspapers who would equate what journalists do with people who make up or pass on news that — true or not — fits their beliefs.
The controversies that surround President Trump, his campaign, his continuing Twitter habit and his scathing attacks on the media have only multiplied in the months since the Davis session was planned. It was an appropriate beginning to the convention schedule.
During his discussion, Davis said journalists face a public relations and credibility crisis in the current atmosphere, but that it also provides newspapers with an opportunity to educate readers on how we do what we do.
Newspapers combat accusations that they deal in fake news with real journalism, with transparency (which is what sets real journalism apart) and with education about the role of the press in a constitutional democracy. "We need to espouse our values and processes publicly with our audience and have earnest conversations about why we are different," Davis said.
Several newspapers shared their practices for communicating with readers. Michael Prochaska of The Oconee Enterprise in Watkinsville hosts regular question-and-answer sessions with readers at his community's farmers' market, while Jim Zachary and The Valdosta Daily Times invite readers to sit in and participate in editorial meetings.
Davis suggested journalists read "The Elements of Journalism," by Bill Kovach and Tom Rosentiel and write regular columns about the values espoused in the book.
The importance of true, independent journalism to the function of American democracy was a major theme at the convention. Time and again — at a session featuring Phil Kent and DuBose Porter discussing how media polling did not predict Trump's victory, at David Hudson's annual legal update and in other discussions — the values and responsibilities of a free press were emphasized.
Given that background, it seems appropriate that the opening luncheon speaker was Miss America. Betty Cantrell of Warner Robins talked about how she became a pageant contestant for the first time just a few years before winning the Miss America title, and how she turned missteps during the competition into victory.
The opening luncheon also saw the induction of the late Otis A. Brumby II into the Georgia Newspaper Hall of Fame. Mr. Brumby's qualifications were presented by Porter.
Scott Buffington of Mainstreet Newspapers in Jefferson was elected GPA's president for 2017-18. Otis A. Brumby III was chosen vice president, and Dan Pool of the Pickens County Progress in Jasper is treasurer. Joining GPA's board of directors is Patrick Graham of The Walton Tribune in Monroe and Steve Wade of The Augusta Chronicle.
At the Better Newspaper Contest Banquet, The Valdosta Daily Times won the Freedom of Information Award for the second straight year. The Times' efforts to get its local hospital authority to comply with Georgia's Open Meetings Act were the center of its winning nomination. In spite of the authority pulling more than $80,000 in revenue through newspaper ads and subscriptions, The Times eventually prevailed.
Brittini Ray of the Savannah Morning News and Kathleen Sturgeon of the Forsyth Herald were recognized as winners of the Emerging Journalist Awards in the contest.
There were 559 awards presented in 37 categories to 73 newspapers at the banquet. There were 2,341 total entries in the contest.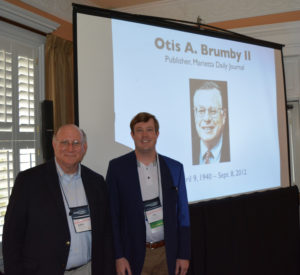 DuBose Porter, left, and Otis Brumby III after the opening luncheon of the Convention and the induction of Otis Brumby II into the Georgia Newspaper Hall of Fame.
Hudson: Northside case critical to open government
Georgia's Supreme Court decision later this year in the Northside Hospital open records case could have important ramifications for the cause of open government in Georgia for years to come.
GPA General Counsel David Hudson called the case "the most important open government issue I have seen in 35 years," at his legal update session during Georgia Press Association's recent convention.
The question, involving whether the records of the nonprofit corporation created by the Fulton County Hospital Authority to run Northside Hospital are open, was argued before the court in April. (See story, May edition of Georgia Press Bulletin.) After losing at lower court levels, open government advocates are nervous that after years of the presumption of openness in local government, this case may turn the tide against it.
Hudson discussed the Northside case and several other topics during his session at GPA's convention. His legal update is always one of the most well-attended sessions at each convention.
If the Supreme Court decides that the Northside records are closed to the public, the fear is that other government entities will create private nonprofit organizations to carry out their public functions for the purpose of closing off their records. Hudson asked what would stop the Georgia Ports Authority in Savannah, Hartsfield-Jackson International Airport in Atlanta or a city- or county-owned landfill from forming private nonprofits to shield information.
A decision in the case is not expected until late this summer or this fall.
Hudson discussed other reoccurring legal issues:
• Many commissions, councils and school boards have adopted the practice of exiting from a closed session and voting to approve "the matter discussed in closed session." Hudson said such votes are nullities unless the actual matter is disclosed in the open meeting.
• The names of juveniles in incident and arrest reports must be disclosed. Police departments and sheriff's offices cannot withhold the names. Newspapers may choose not to publish them.
Hudson also commented on several initiatives that were considered during this year's legislative session:
• S.R. 130 established a study committee on transparency and open access in government. There are no media representatives on the committee.
• S.B. 180 created tax credits for donor to rural hospitals, but a provision that would have granted anonymity to those donors was removed in the final version after input from press groups.
• H.B. 139 requires mandatory disclosure of school system and charter school financial information, including expenditures, salaries and benefits, maintenance, construction, professional development, budget, tax collections and audit information.
Hudson's son, Brooks, will be assisting him in working with the Legal Hotline, which allows members of GPA to seek advice regarding open government laws when they experience problems with local governments. Brooks Hudson can be reached at bhudson@hullbarrett.com.
Newspapers make sports coverage pay off
High school sports coverage is more than part of a newspaper's community coverage responsibility — it's an opportunity to enhance newspaper revenue.
At a session at GPA's 131st annual convention, a trio of editors representing weekly and small and large daily newspapers discussed the ways they go beyond sports coverage to create publications and events that enhance coverage and the bottom lines at their publications. No matter the size of the newspaper, there are ideas to consider that can be scaled or tweaked to fit the situation.
Start with weekly newspapers. Publisher Len Robbins of The Clinch County News in Homerville sells advertising space to parents in the special football preview section. Coaches and sponsors send home with players and cheerleaders letters from The News with special offers for ads for good-luck and parental-pride.
The News also produces the annual football program as a fundraising venture with school cheerleaders. The cheerleaders sell the ads in the program and get a cut of each ad sold to help them buy uniforms and gear. The newspaper's production department puts the program together, and the paper also donates money to the booster program. To be sure, it helps that Robbins is also the president of the booster club, but other newspapers are trying similar ideas.
Technology is playing a role for small-circulation newspapers too.
Last season, Robbins, who is also the announcer for football games, broadcast a game on Facebook live to 4,700 viewers. It was an experiment he took on when a local broadcaster who normally streams the games on
the internet was unable to do it because of a hurricane.
It's something The Forest-Blade of Swainsboro does regularly. In fact, The Forest-Blade last year took the Facebook live game broadcasts it recorded, burned them to disks and sold them to people from the newspaper's office.
Derrick Davis, sports editor of The Valdosta Daily Times, suggests that every newspaper, regardless of size, use technology to enhance sports coverage, specifically by using Facebook and Twitter to keep up with athletes. Posting scores, and even updates on big plays during games, increases their interaction with the newspaper and the newspaper with its audience. In turn, the newspaper often learns about college recruiting and commitments by following athletes and can more easily keep up with their post-high school athletic exploits.
The Savannah Morning News takes interaction with prep athletes to an even higher level with an event it calls the "Best of Preps," a sponsored awards banquet.
Each spring, the newspaper invites all the athletes that earned a spot on of its all-area first teams to a banquet featuring a headline speaker such as Atlanta Falcons quarterback Matt Ryan or former Atlanta Braves third baseman Chipper Jones.
Additional tickets to the banquet are $60, and 16 sponsors contribute to help pull it off too.
The Sunday after the banquet, the newspaper produces a special section with previously used material and photos of the players at the banquet. The most recent section was 60 pages.
Sports Content Editor Nathan Dominitz points out that the newspaper is simply using information it already produces in a way that allows it to show it cares about the community.