Morris Publishing Group buys Georgia Trend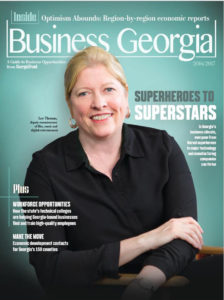 Morris Publishing Group LLC announced Feb. 2 it has acquired the publisher of Georgia Trend magazine, which it plans to fold into a newly formed subsidiary called Morris Business Media.
The Augusta-based media company, owner of The Augusta Chronicle, said the acquisition of Trend Publications LLC includes its flagship monthly business magazine, its digital and special events assets and several other annual publications.
Both companies are privately held and financial terms of the sale were not disclosed.
William S. Morris IV, president and CEO of Morris Communications Co., the parent company of Morris Publishing Group, said in a statement that suburban Atlanta-based Trend Publications has "built a strong suite of business products that have positive and dynamic influence on the Georgia economy."
"Adding this to our portfolio is an honor, and one with a bright future," Morris said.
The 31-year-old Georgia Trend magazine is distributed in all 159 Georgia counties. Its affiliated products include the annual Small Business Guide, the annual Business Georgia publication, the website georgiatrend.com website and the electronically delivered Georgia Trend Daily.
Trend Publications is co-owned by Atlanta businessman Tom Cousins of Nonami LLC and Young Publications, which is owned by Neely Young and Ben Young, who serve as Georgia Trend's co-publishers. The Norcross-based group has eight full-time employees and more than 30 freelance writers, photographers and graphic designers.
Neely Young said in a statement that his family will still be involved in the publication and that Ben will remain as publisher.
"Tom, Ben and I are pleased to be associated with Morris and we know they will continue our vision of building a positive sense of community throughout our great state," Young said. "This bodes well for Georgia Trend."
In addition to the Chronicle, Morris Publishing Group's Georgia properties include the Savannah Morning News and the Athens Banner-Herald. It also owns The Florida Times-Union in Jacksonville and The St. Augustine (Fla.) Record.
Derek May, president of Morris Publishing Group, said Georgia Trend will be "a fantastic addition to our company's media portfolio."
"We look forward to building on this powerful brand and serving the statewide business community in new and innovative ways," he said.
Morris Communications was founded in 1945 as Southeastern Newspapers Inc. Today the company's assets include holdings in magazine and niche publications, outdoor advertising, radio broadcasting, book publishing and broadband services.
Ben Young said Morris will bring "new resources to help grow our brand and product."
"They are a Georgia company with a great history in our state," he said. "We look forward to a bright future for the magazine and our readers."
— Morris Publishing Group LLC
How do you react to request to "unpublish news?"
By David Hudson, GPA General Counsel
Has your newspaper received a request to delete information from its online archives, or a request to add information to an online story?
In September, the Tampa Bay Times convened a workshop to develop policies on how to deal with these issues. A December article in the American Bar Association Journal carried the caption: "Should some stories be forgotten?"
In 2014 the Court of Justice of the European Union created a so-called "right to be forgotten" for citizens of the 28-nation European Union. Interestingly, the court did not require deletion from newspaper archives, but stated that the plaintiff in that case should seek to have search-engine providers delist the item at issue. But the United States Court of Appeals for the Second Circuit ruled in 2015 in Martin v. Hearst Corp. that even though the plaintiff's arrest record had been expunged under Connecticut law, there was no right to require a newspaper to remove the arrest story from its online archives. The court stated that while the Connecticut law has nullified the effect of the arrest, the law "cannot undo historical facts." 777 F.3d 546, 550.
The ABA article described various practices by newspapers that have been confronted with the issue. Some newspapers will not make changes at all. Others will add information online about subsequent developments in a story — such as an acquittal or the dropping of charges. Some papers put the new information at the top of the online story, while others add it at the bottom. Only a small number of newspapers will delete a story in its entirety, and only then if convinced that the story was inaccurate.
Everyone can imagine circumstances where youthful indiscretions are now accessible by a web search and can be damaging to someone who has rehabilitated his reputation and otherwise lived an exemplary life. Ultimately, whether to remove such information rests with the discretion of the publisher. In most states, such as Georgia, information published more than a year earlier is beyond the reach of defamation law, and after two years, it is beyond the reach of a claim of invasion of privacy. But policy arguments go both ways. Some assert that in the U.S., there has always been the view that citizens should be able to obtain a "second chance." Bankruptcy law is an example. But others argue that making exceptions in the historical record contains its own risk. One example posed is whether one would want to know about questionable conduct, even well in the past, by a person considered for hiring as a babysitter or a caretaker for an elderly adult. And what about candidates for public office?
While requests for removal of online information will rarely be an area of legal risk for newspapers in Georgia, there will be occasions that warrant careful consideration and the exercise of good judgment. There will be a tug between a newspaper's commitment to present and preserve the historical record of what occurred in the community it serves. On the other side is the possible ill will that could be created by allowing easy access to what would in yesteryear have been forgotten as a minor transaction, but today is but a click away.
If a newspaper has not done so, deciding on what its policy will be when a request to "unpublish news" is received is a timely topic for publishers and editors to resolve.
SunLight Project on the rise at CNHI newspapers
Brighter SunLight will soon be filtering into many Georgia communities.
The newspapers owned by Community Newspaper Holdings Inc. in Georgia and north Florida are teaming up on a new project to use sunshine laws, data research, open-records requests and investigative journalism to shine light on big issues and opportunities facing their communities.
Journalists from CNHI papers in the company's six Georgia markets will be working together in an effort called the SunLight Project, which will feature recurring comprehensive, in-depth looks at crime, economic development, education, government spending, bureaucratic red tape, quality-of-life issues, poverty, homelessness and a host of other topics that affect readers.
CNHI Regional Editor Jim Zachary — a longtime advocate of open government and winner of multiple awards from GPA for his work on the topic — is the architect of the SunLight Project. He was recently tapped by CNHI to oversee the editorial work of company-owned publications in Valdosta, Dalton, Milledgeville, Moultrie, Thomasville and Tifton, as well as in three Florida towns.
"Reliable news sources readers can trust matter more than ever before," Zachary said. "The proliferation of fake news reports has heightened the need for quality reporting, and we are committed to being the leading source of news and information in all the communities we serve."
Joining Zachary from Georgia to work on the project are Patti Dozier of The Thomasville Times-Enterprise, Eve Guevara from The Tifton Gazette, Billy Hobbs from The Union-Recorder of Milledgeville, Alan Mauldin of The Moultrie Observer, Charles Oliver from The Daily Citizen in Dalton and John Stephen from The Valdosta Daily Times, along with graphic artist and journalist Terry Rogers, photo editor Derrek Vaughn, editor Dean Poling and digital editor Kristin Finney of The Valdosta Daily Times.
"We take our role as the fourth estate very seriously. Newspapers have a long and important legacy as a system of checks and balances for governments as well as giving a voice to the voiceless," Zachary said. "Any newspaper that does not hold the powerful accountable, champion government transparency and defend the First Amendment is not worth the paper that it is printed on or the ink that fills its pages.
"We are also committed to celebrating our communities and being a cheerleader while providing valuable information to community leaders about ways economies and quality of life can be enhanced. By combining the resources of multiple newspapers and talented journalists from a two-state area, we believe we can provide comprehensive reports, comparisons and contrasts, along with valuable data that will make each report a must-read in our coverage areas."
— The Valdosta Daily Times