Newspapers should act now to get notice of special meetings 
By David Hudson, GPA General Counsel
It's the time of year for weekly newspapers to take action to receive notices of special public meetings.
According to state law, public agencies must prescribe and make available to the public the time, place and dates of their regularly scheduled meetings. [O.C.G.A. 50-14-1(d)(1)].
But agencies also have special meetings at other times or places and may also have what are sometimes referred to as "emergency" meetings when less than 24 hours of notice can be given. O.C.G.A. 50-14-1(d)(2), (3).
For meetings that are held at other times and places than the regular meeting, the law requires "written or oral notice … at least 24 hours in advance of the meeting to the legal organ [newspaper]" or the agency has the option to give that notice to a newspaper of general circulation in the county.
Now here is the catch: In a county where the legal organ newspaper publishes less than four times a week, the notice of one of these special meetings need only be given to the newspaper "upon written request." The law goes on to provide that a newspaper can request the notice to be given by email, FAX or telephone, and it must be given 24 hours in advance of the meeting. Also a copy of the proposed agenda must be included if it has been requested by the newspaper. [O.C.G.A. 50-14-1(d)(2)].
The same rules as above apply for an emergency meeting — one that is to be held with less than 24 hours of notice. Except for these meetings, the written request for notice to the newspaper must be current — "within the previous calendar year." 50-14-1(d)(3).
So what should a newspaper do?
1. Sometime after January 1 of each calendar year, a newspaper should send a written request to each governmental agency it regularly covers. Also, a calendar entry should be made to do so again after January 1 each following year.
2. The written request should state that the newspaper wants to be notified of every special or emergency meeting conducted by the agency as described in O.C.G.A. 50-14-1(d).
3. The newspaper should express in its written notice how it would like to be notified: email address, FAX number or telephone number.
4. Finally, the written notice should include a request that the newspaper also be provided a copy of the meeting agenda at an email address or telephone or FAXp number specified.
5. These steps should be taken by all newspapers, even those that publish more than four times per week. It can eliminate an agency claim that it did not know it was required to send notices.
Hall becomes publisher
of The Hartwell Sun
Editor Michael Hall of The Hartwell Sun has assumed the role of publisher of the weekly newspaper.
Hall joined The Sun in September and has been preparing to take on the role of publisher as Peggy Vickery transitions into a new marketing specialist role for the newspaper.
He said he is thankful for Vickery's leadership and guidance at The Sun for the past three decades and for her help in the transition.
"I am honored to take on the role of publisher from someone like Peggy," Hall said. "Her local knowledge and background in operating the business side of the newspaper has been invaluable in the first few months with The Sun. I look forward to continuing to work with her in our new roles."
Hall grew up in Cherokee County and graduated from the University of Georgia in 2004. He was a reporter and photographer first at The Mitchell News-Journal in Spruce Pine, N.C., another Community Newspapers Inc. paper, then eventually joined The Brunswick News in Brunswick, Ga. From there he was promoted to sports editor and eventually managing editor, where he helped guide an editorial staff that earned the general excellence award from GPA this past June.
As publisher and editor, Hall will oversee the management of both the editorial content and business aspects of The Sun.
"Michael is an award-winning journalist, and we are proud to have him taking over the helm of The Sun," said regional publisher Alan NeSmith. "His in-depth reporting, photography and design skills have already enhanced the newspaper and I'm looking forward to watching him grow in his new position. Peggy has been working with Michael to ensure a smooth transition for our readers and advertisers, and we're excited she's remaining on our team, too."
Hall and his wife, Anna, have settled in Hartwell, and he said he is excited about their future in Hart County.
"There is a lot happening in Hart County," Hall said. "I am excited about not only covering the growth Hartwell is poised to experience, but also to help local businesses grow with the community by using our products to tell everyone about their services. This is truly a unique community, and I look forward to being a part of its future."
— The Hartwell Sun
The Blackshear Times, sheriff work together for community
When Pierce County, Ga., Sheriff Ramsey Bennett took office in 2013, he pledged in an interview with The Blackshear Times that he and his employees would provide the area with professional, courteous law enforcement service.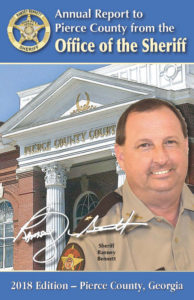 Bennett made public outreach a part of that pledge. "We want to do things to let citizens know we are here for them, and we want to help them," he said to Times reporter Jason Deal for the story. "We want to help educate the public about what we do and help them to help us."
In the years since, the sheriff has backed up those words by working with The Times to publish an annual report that details Pierce County's crime statistics, provides crime prevention tips and introduces the public to the employees who work for his office. It's a partnership that demonstrates the benefits of communities that work together.
Times Publisher Robert M. Williams Jr. said Bennett approached the newspaper about producing the section five years ago. "He told me he wanted to do an annual report to tell the community about how the office works and what statistics showed about the local situation with crime and housing inmates," Williams said.
The sheriff pays for the section. The Times charges to produce, print and distribute it.
While Bennett's office provides the data on crime stats and other content, the staff at The Times builds graphics, incorporates the sheriff's comments into each one and builds the pages.
"He gives us the stats on things like the miles they patrol, the number of arrest warrants they issue and the number of violent crime arrests they make," Williams said. "It's just about everything you could think of related to crime. We create bar graphs from them and see how things have gone up or down, and he provides explanatory comments on each graph. We also feature all the staff with photos of each deputy, detective, jailer and administrator in the office."
The Times provides Bennett and Pierce County with a turnkey product. Williams takes a proof of the final product to the sheriff, and they check for any mistakes together. Then it's up to the newspaper to print and distribute. Extra copies are given to Bennett for additional distribution.
On the week that the section is inserted with The Times, the newspaper does a front-page story that summarizes details of the updated statistics and crime trends. It's an important story that also provides a promotional boost for the section.
Williams said it allows the sheriff to burnish an image that he feels is an important part of the way he does his job. "He's very considered about it. This is a major thrust into showing a professional image that reflects being transparent and responsive."
After seeing the section in previous years, other sheriffs have asked Williams about producing one in their own communities. He always suggests they work with their own local newspapers.
And he encourages newspapers in smaller counties like Pierce to approach their own sheriffs with a similar idea for an annual report. "Make it as easy as possible for them to say yes and keep saying yes every year," Williams said.
After visit to a daily in India, publisher discovers, 'Newspaper folks are all the same'
Sometimes, newspaper veterans can talk shop and understand the product — despite language barriers.
My wife and I visited Shimla, India, in early October for our 16th anniversary. Sure, it is a tourist destination, but not for the Western world.
The highlight of the trip was not ancient artifacts, scenic views, the food or historic buildings. It was the people — in particular, Shimla Rotarians and a visit with the local staff of a national newspaper.
Shimla is in the Himalayas and once was the seat of British power in the warmer months. The town of about 170,000 is built on mountainsides.
One day while walking Mall Road, the main shopping district, I noticed a sign for The Tribune. With everything constructed on the mountainsides, the sign pointed down a stairway, which ultimately turned into about nine different sets of stairs with one monkey crossing our path along the way.
We found the office, opened the door, stepped in and were met by an employee who spoke no English at all. Then a second staffer joined us in the hallway. Likewise, he spoke no English. I failed to produce the GPA press card buried in my wallet, but that might have been for the best since I was not travelling on a journalist visa.
But, showing my business card and making gestures to the name McDuffie Progress, pointing to myself, then pointing to them and in turn saying Tribune, they finally caught on that I was a fellow journalist.
With that, my wife and I were led down a narrow hallway to a small room where we joined the one person who spoke some English. And of course, it figures that would be an ad sales guy.
With notebook in hand and paper spread atop a coffee table, he was checking off and reviewing his ads in the latest edition of the daily. Apparently they must produce regional editions because, although it was a national paper, he had ads in it.
The two that led us in stayed, along with my wife, Robyn, as we talked shop. A major Indian daily and a small Georgia weekly are vastly different, yet similar t00.
They had a much larger staff, but when they left for interviews or ad visits, it was on foot after climbing those tedious flights of stairs. Most of the in-town part of Shimla is pedestrian only, other than the ambulance and the morgue van.
The Tribune does not have a delivery staff that gets the paper to homes like we do here in Georgia. The ad reproduction was perfect, registration great and inking spot on. But, he was checking closely to be sure. We talked digital and print, and I learned they are not moving as quickly to selling digital as newspapers are doing here.
A funny thing I had noticed in all the towns we passed through was the abundance of ad signage covering the outside of buildings. Plus, there were a lot of small print shops to produce all that signage. I imagine print could be a tough sell in areas where you can slap your ad onto the side of every building in a pedestrian society.
But, the ad count appeared strong in The Tribune. We wrapped up our visit, snapped photos together, shook hands, and my wife and I departed to face that climb back up the many stairways to street level.
Here, many of us in newspapers are involved in the community and various organizations. Since I am a Rotarian in Thomson, my wife and I made advance plans to attend Rotary in Shimla. We connected through social media so we would be welcomed to attend.
The meeting was great, and we exchanged club banners. Then club president Kanwaljit Singh invited us on a service project. We agreed to attend, and, two days later, we hired a tourism car to take us the small town of Kufri.
The true joy of our trip was that Sunday afternoon. We met the Rotarians at a small amusement park, also built down a mountainside, as they hosted a fun day for 115 special students. Most were deaf and about a dozen blind.
We fed them lunch, played with them and even were enticed into attempting to dance in their manner. Southern folks just don't know how to pull that off but we tried for the sake of making the kids have fun.
We now plan to visit every year to see our new Rotary friends and again share service project time as they brighten the lives of these kids.
So, if you travel, consider reaching out to those civic organizations and visit. And if you see a newspaper sign or can find an address, just walk on in.
Newspaper folks are all the same.