Georgia updates Rule 22 for courtroom photos, recordings
By David Hudson
GPA General Counsel
The Supreme Court has updated Rule 22, the governing standards for photography and videography in courtrooms in Georgia.
By an order passed Feb. 6, the Supreme Court amended Rule 22 to take effect on May 1. Its purpose is to address changes in technology — smart phones and other mobile devices capable of video and recording.
In the most part, there are no changes that adversely affect the press. The presumption remains that courtrooms should be open to recordings and photographs. A judge must make specific findings on the record to deny a Rule 22 request from the media.
Here is a summary of the new rule:
The rule states that open courtrooms are "indispensable to the judicial system." At the same time access and recordings must protect "the legal rights of the participants … and [i]nsure appropriate security and decorum."
Individuals who are not lawyers, lawyer staff or litigants must use electronic devices outside of the courtroom unless permission is given by the judge.
This rule does not prohibit any notetaking or sketching of proceedings.
Jurors may not use electronic devices except during breaks, and may not make recordings.
Parties and spectators may not use devices for recording purposes unless permitted by the judge.
Lawyers and their staff may make audio recordings of the court proceedings after announcing that they plan to do so. The recordings can only be used in litigating the case, or as authorized by the court.
The press, and other persons seeking to make video, photographs or recordings must make a request to the court using the form at Exhibit A of Rule 22.
The request must be made at least 24 hours in advance where practical.
The court must notify all parties that a Rule 22 request has been made.
The court must hold a prompt hearing if it intends to deny any portion of the request or if a party objects to the request.
An entity promptly notified who does not object will be deemed to have waived any objection to a recording request.
A proper Rule 22 request "should generally be approved" by the court.
A judge may deny a request only by making "specific findings on the record that there is a substantial likelihood of harm … that outweighs the benefit of recording to the public, and the judge has considered more narrow restrictions on recording than a complete denial of the request."
There are nine factors that the court can consider in ruling on the Rule 22 request. Same as currently exists.
The court has the authority to preserve the dignity of the proceedings by designating the placement and use of recording and camera devices.
The judge may requiring pooling of recording devices where appropriate.
Recording devices may not be used when the judge is outside of the courtroom.
Recording devices may not be used to take pictures of jurors or prospective jurors, nor may they be used to record jurors' statements or conversations, such as during jury selection.
Attorney-client confidential discussions may not be recorded.
Conferences between the lawyers and the judge at the bench may not be recorded.
Newspapers see benefit from intern program
Interested in an internship grant for your newspaper in 2018? Applications must be returned t to GPA by March 1. Download an application here: InternshipHostApp2018
By Sean Ireland
Publications Editor
Interns who participate in the Billy Watson Internship Program each summer get valuable working experience, develop reporting and writing skills, and, sometimes, earn their first full-time job in journalism.
Newspapers that participate in the internship program usually come away from it equally happy. What's not to like about getting money to hire a competent and hungry young student looking for a chance to prove they belong? Every newspaper that hosts an intern gets an extra hand during the summer and a jump on training someone who might become the paper's next full-time reporter. Some editors and reporters who supervise interns even find that their own enthusiasm for their jobs is renewed by the eagerness of students preparing to embark on their careers.
"I love fostering the spark of community journalism in young people," said Klark Byrd, the former editor of The Clayton Tribune. Byrd, who moved to work at a daily newspaper in Texas, supervised interns for the past two summers at The Tribune.
Each year, Georgia Press Educational Foundation offers grants to members of Georgia Press Association to hire summer interns. Typically, newspapers chosen to participate in the program receive $1,000 to $1,500 from GPEF and must match it with $500 to $1,000 to hire an intern of their own choosing. Combined, the money provides a salary for an intern to work 32 hours a week for eight weeks. The newspaper must pay for any job-related expenses, such as mileage.
To apply for an internship grant, newspapers can download an application from the GPEF page on GPA's website, www.gapress.org/georgia-press-educational-foundation/ Applications must be returned to GPA by March 1. Contact Sean Ireland at 770-454-6776 or sireland@gapress.org for more information.
It's a mutually beneficial relationship for newspapers and students. In 2017 alone, four of the 13 newspapers that completed the program hired their interns. Ten of the 13 reported they would have considered their interns for permanent positions if the students were not going back to school in the fall.
"This is a great program," said Winston Skinner, editor of The Newnan Times-Herald. "We love participating and would love to have another intern next year."
Most supervisors who participate cite the experience that interns get as a key to career success. "We are the real deal," Skinner said. "Interns don't just see how a newspaper works, they become part of the process."
"Journalists who have obtained master's degrees have said they learned more in four weeks on the job than during their years in school," Byrd noted. "When it comes to reporting on the community, it's trial by fire or bust."
It's the exposure to interacting with public officials and news subjects, reporting and writing under pressure that offers interns a measure of whether journalism is the right career. "A classroom simply cannot duplicate the real-world pressures, unexpected developments and ultimate job satisfaction of a working newsroom," said Drew Davis, editor of The Press-Sentinel of Jesup.
Newspapers get an additional benefit too: better relations with their local high school or college
journalism programs. "This program has allowed us to strengthen our ties with the Georgia College journalism program and foster new writing talent," said Natalie Davis Linder of The Union-Recorder in Milledgeville. "Several of our former interns have been hired by us at the conclusion of the summer."
Consider applying for an internship for your newspaper this summer. It's a win-win proposition for interns and newspapers. Said Davis, of The Press-Sentinel, "I'm having trouble finding new ways to say that the program is well-designed, well-executed, and beneficial to the interns, the participating newspaper, the affected communities and the journalism field in Georgia as a whole."
Make the most of 'Best Of' promotions
GPA helps members maximize section, events
By Sean Ireland
Publications Editor
As a longtime newspaper staple, contests that allow people to choose their favorite local products, services and businesses are proven to engage readers, promote local business and boost revenue.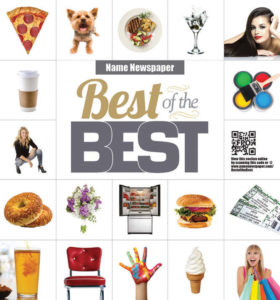 But are so-called "Best Of" sections right for every market? Can any newspaper produce a "Best Of" section or even an event tied to it?
While they can be a lot of work, they can also be quite worthwhile. And it's possible for a newspaper with a small staff or a small budget to pull off, especially with the help of Georgia Press Association.
GPA's Stacy Jennings can help member newspapers plan their own "Best Of" events. For 18 years, Jennings was director of marketing for the Savannah Morning News, where she organized "Best Of" promotions regularly.
"Just about any newspaper can do a 'Best Of' sales effort for a section or an event," she said. "The only real requirement is that you have more than one business competing for the 'Best Of' titles."
The Morgan County Citizen is doing a "Best Of" project this year through its lifestyle magazine. "We haven't done it in two years because I believe it was getting old for retailers so we gave it a rest and will revive it this year," said the Citizen's Dianne Yost.
"We use Survey Monkey for nominations and for voting and implement it in the winter magazine to help garner advertising dollars for nominees," Yost said. "It is time-consuming but fun."
Depending upon how long the newspaper wants to run the promotion, it can start with a nomination period. Advertising packages are sold to get businesses nominated (ads that say, "Nominate us!"), and then, later, ads can be used to ask for votes.
The contest works without a nomination period too. Instead businesses are encouraged to ask customers to vote for them through advertising and by pushing it on their social media and business materials, all directing customers to the newspaper.
Jennings can recommend services to help with the voting process, or it can be done through a free online survey service. "A good list of business categories is important," she said. "You want all the usual suspects, of course, such as best hair dresser (or salon), best dentist, best massage, best margarita, best Mexican food, best pizza, best HVAC contractor, best home builder, etc.
"Winners usually want to buy a 'thank you' ad, which is the basis of the 'Best Of' section or pages in the newspaper," she added. "Winners are urged to use the words or logo 'Best Of (city name) 2018' for the next year."
An event tied to the contest is optional, but can be as elaborate or simple as the newspaper wants. While larger newspapers may try to sell sponsorships for an event and work together with the local chamber of commerce, others may want a low-key time to interact with advertisers.
"It's always good to invite advertisers to an event where the sales staff can have some social time and to say 'thank you' for their business," Jennings said.
"It's a good brand builder. It positions the newspaper in the readers' and advertisers' mind as being engaged with the community and fun. This is supposed to be fun and good for business," Jennings said. "Promotions like this can drive digital traffic and drive newspaper sales."
Contact Jennings at 770-454-6776 or sjennings@gapress.org for more information on putting together a "Best Of" promotion for your newspaper.
Zachary takes on national role with CNHI
The Valdosta Daily Times editor Jim Zachary has been named deputy national editor of Community Newspaper Holdings Inc. He will retain his role as editor of The Times and his office will remain in Valdosta.
CNHI announced an expanded news leadership structure aimed at enhancing content quality, audience engagement and collaboration among its more than 100 newspapers.
Dennis Lyons, editor of the Sunbury Daily Item in Pennsylvania, will add the title of national editor and team up with nine regional editors, who will work with the company's local editors to deliver content readers want, need and value.
Zachary will become the deputy national editor. He will also serve as regional editor for CNHI papers in north Florida, Georgia, Alabama, Mississippi and Texas.
Zachary is president and chairman of the Red & Black Publishing Co., serving the University of Georgia, vice-president of the Georgia First Amendment Foundation, a member of the Grady College of Journalism and Mass Communications Board of Trust, director of the Transparency Project of Georgia and a member of the Atlanta Press Club and Investigative Reporters and Editors. He has won numerous awards for defense of the First Amendment, open government advocacy and editorial writing. He is a winner of the prestigious David E. Hudson Open Government Award from Georgia Press Association. Under Zachary's editorial leadership, The Times has won consecutive Freedom of Information awards in GPA's Better Newspaper Contest.
CNHI announced other regional editor appointments along with Zachary's in late January. Editors in Indiana, Missouri, Oklahoma, Pennsylvania, Massachusetts, West Virginia and Michigan were chosen to serve as regional editors.
The announcement of the regional editor system was made by Bill Ketter, CNHI's senior vice president for news, and Kayla Castille, CNHI's senior vice president for content and digital operations.
They noted CNHI has been working on the structure for the past six months as part of a project to strengthen the quality of print and online content produced by CNHI papers, build a rich multimedia culture and step up digital news growth across the company.
During the project, Lyons served as regional editor for CNHI papers in Pennsylvania and Ohio, and Zachary had the same role for North Florida and Georgia.
"The project was a wonderful success, meeting our quality and culture change benchmarks," said Donna Barrett, CNHI president and CEO. "Now we are integrating all CNHI newspapers into the process by making wider use of the leadership and journalism skills of the regional editor model."
"It is important for newsrooms to share good ideas on how to serve their audiences across platforms," Castille said. "Great content is key to our future, and this system will help our newsrooms achieve even more success in the digital era."
Ketter said regional editors will allow CNHI to put greater focus on training for individual newsrooms, improve the quality of local news in print and online, and expand news-sharing initiatives involving regional and CNHI-wide projects.
He said the new structure is driven by editors with a passion for community journalism that makes a difference, noting that Lyons, who will lead the regional editors' team, helped build Gannett's network of news sharing while serving as managing editor for local news at USA Today.
CNHI is one of the nation's leading publishers of local news and information, operating newspapers, websites and specialty publications in more than 110 communities in 23 states. CNHI, a Raycom Media company, is headquartered in Montgomery, Alabama.
— CNHI