Miss America Betty Cantrell is from Warner Robins, Ga., and will speak at the opening luncheon of GPA's convention on June 1. Her appearance is sponsored by The Telegraph of Macon.
Miss America headlines GPA Convention
The first Georgian to become Miss America since 1953 headlines Georgia Press Association's 131st annual convention.
Betty Cantrell of Warner Robins, Ga., will speak at the opening luncheon of the convention, which is scheduled for June 1-3 at the Jekyll Island Club Hotel. The Telegraph of Macon is sponsoring her appearance.
While Cantrell leads off the convention, the schedule there promises several more events that will be worthy of investing the time and money to attend.
• William Bronson of The Daily Citizen in Dalton will moderate "Ideas on Tap," in which everyone will be invited to share their best revenue-generating and cost-cutting ideas over drinks, popcorn and pretzels. Be prepared to pick up ideas that could pay for your convention costs and to share your own good ideas.
• Maggie Louie, former audience director of the Athens Banner-Herald, is now the cofounder of DEV/CON Detect, a company that protects newspapers from digital revenue thieves. She will discuss "Ad Tech Fraud."
• Another session led by Len Robbins of The Clinch County News and other newspaper sports journalists will focus on best practices in sports coverage.
• David Hudson and Brooks Hudson will provide updates on the latest state and federal legislation that could affect your newsgathering operations and your bottom line.
• The biggest media story of the last year will be the topic of another session: "How did the media polling miss the Trump numbers so badly?"
• UGA Grady College Dean Charles Davis will present a session about fake news and how newspaper journalists maintain a foothold in today's media landscape.
Networking opportunities are another part of each year's convention experience. This year, on the first night of the convention, the All-Georgia Products Reception will give attendees a chance to socialize while trying samples of great foods, drink and other products made by Georgia companies. The fees paid by the vendors to attend the reception support Georgia Press Educational Foundation.
The winners of the Better Newspaper Contest will be honored at the annual awards banquet on the convention's second night.
Complete convention registration is being mailed to newspapers and posted at www.gapress.org. Contact Mary Pat Hodges at mphodges@gapress.org or 770-454-6776 for additional information.
The Claxton Enterprise answers critic with readership data
In a room full of civic and economic development leaders discussing a "Shop Local" program, the leader of the Evans County Board of Commissioners proclaimed that the group's efforts should concentrate on promoting Internet/web advertising "because nobody reads the local newspaper anymore."
Sarah Gove, editor of The Claxton Enterprise, was at the meeting. She says the remark wasn't the result of any grudge the chairwoman has with the newspaper and besides its dissonance at a meeting encouraging local commerce, it wasn't said with malicious intent.
"For this campaign to be effective, [the chairwoman was saying] it had to reach a younger audience on their platform," Gove said. "I understand the benefit of social media marketing but I also understand the value of a community newspaper and the audience it reaches and the trustworthiness of a community newspaper."
It's reflective of the oft-repeated, yet entirely wrong perception that newspapers have had their day and are fading away.
When Mickey Peace, the publisher of The Enterprise, which serves as the legal organ
for Evans County, heard about the incident from Gove, he was motivated to take action. He asked her to use results from Georgia Press Association's 2016 readership study in a story for the paper's weekly business spotlight feature. Her story noted survey highlights, including the finding that 4.7 million Georgia adults ready a printed newspaper or newspaper website during an average week and the long shelf lives that weekly newspapers have with readers.
Plans are for business spotlight stories to highlight other survey results, such as profiles showing nearly the same percentage of people aged 18-34 (31 percent) read a newspaper an average week as those 35-54 (39 percent) and those 55-plus (29 percent).
It's a great example of how newspapers can use the readership study as a promotional vehicle with readers and advertisers and of the work that must be done to continually dispel the public's myth about the decline of the newspaper industry.
"Sarah's story will hopefully prompt thoughtful consideration by other local citizens before dismissing as irrelevant a news-gathering and publishing business that continues to rely primarily on print," Peace said. "Those of us in this business must do more to tell the factual story about the importance of newspapers. The GPA readership survey is an excellent resource for helping get that message out."
Baker Ellis joins LaGrange Daily News as publisher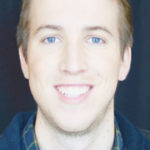 Baker Ellis has been chosen president of LaGrange Newsmedia LLC and publisher of the LaGrange Daily News and its affiliated publications and websites.
He replaced Jeff Parra, who is no longer with the company. Ellis met with staff members on April 6 and began working in LaGrange immediately. He plans to relocate permanently to LaGrange with his family in the coming weeks.
Ellis, a native of Danville, Ky., spent the last two years working for The Shelby County Reporter, a community newspaper based outside of Birmingham, Ala. He was hired as a sportswriter for the Reporter before quickly moving into the sports editor role. Later he became a management associate where he has been actively learning all aspects of community newspaper operations and working various group assignments. The Shelby County Reporter and the LaGrange Daily News are both owned by Boone Newspapers Inc.
"This is an incredible opportunity, and one I do not take lightly," Ellis said. "LaGrange is an old city with an obvious respect and pride in its history, but it is also a city that is evolving and growing quickly. This makes the newspaper's role to serve and inform this community more important than ever before. I am excited to play a part in providing LaGrange with the newspaper it deserves."
The LaGrange Daily News is one of 75 community newspapers managed by BNI, and is the company's most recent acquisition. BNI succeeded Civitas Media as owner in October.
"Baker has earned this opportunity via hard work, good judgment and a maturity beyond his years," said James B. Boone Jr., chairman of the board of BNI. "He and Mary Holland are a young couple who will seek to fit into the LaGrange community, make their future here and will work hard with our company's full support to bring The Daily News ahead faster in its restoration. Our company has had a good reception here in a state important to my family and me as we assumed responsibility for your newspaper, brought some good LaGrange people back to our staff and are appreciative of having those assets as we work to serve this community."
Ellis and his wife, Mary Holland, are both graduates of Samford University in Birmingham.
"My wife and I both grew up in communities similar to LaGrange," Ellis said. "We are excited and ready to become a part of life here, and we both hope we can be a positive addition to the community.
— LaGrange Daily News