Celebrate newspaper success at GPA Convention
Georgia Press Association's 132nd annual convention June 7-9 at the Jekyll Island Club Hotel offers two opportunities to celebrate newspaper success: It will feature awards ceremonies for the Better Newspaper Contests for advertising and editorial content.
Awards letters have been sent to all publishers. Did people on your staff earn recognition in the contests? Send them to convention to thank them, allow them to network with colleagues and see great ideas from other newspapers.
The convention will also feature former Georgia publisher Leonard Woolsey in a panel discussion about the ways newspapers are supplementing their products with magazines.
Woolsey will lead a session called "Newspapers Vs. Magazines: The Differences in Writing to Photography to Advertising" and then he, DuBose Porter and Patrick Yost will participate in "Newspapers Find Success in Magazine Publishing." The growing production of magazines by newspapers is one of the themes being explored during the convention.
Now in Texas, Woolsey publishes The Galveston County Daily News and Coast Monthly magazine, voted the best magazine in Texas two years running, with annual revenue approaching $1 million.
Among the other convention events:
* The opening luncheon headliner will be Jesse Cole, owner of the Savannah Bananas baseball team and an award-winning entrepreneur who is known for his yellow tuxedo and inspiring book called "Find Your Yellow Tux – How to Be Successful by Standing Out."
* The leading candidates to be Georgia's next governor are being invited to participate in forums.
* Harris Blackwood is the director of the Governor's Office of Highway Safety, but he's also a newspaper columnist and was a regular player in the cast of the Cracker Crumble. He's producing a mini-Cracker Crumble as part of the All-Georgia Products Reception on Thursday night.
* GPA General Counsel David Hudson will provide his annual Legal Update on the changes to law made by the General Assembly and to answer questions.
Click to download a complete convention schedule here: Convention Program Updated 2018
Click to download a convention registration form here: Convention Registration Form 2018
Be sure to book your hotel reservations soon — there are several events on Jekyll Island that week, and rooms are filling up quickly. GPA has room blocks and special rates at these facilities:
* Jekyll Island Club Hotel, 800-535-9547, May 4 deadline
* Hampton Inn & Suites, 800-426-7866, May 5 deadline
* Jekyll Oceanfront Westin, 912-635-4545, May 11 deadline
And don't forget to consider making nominations for these GPA Awards:
* The David E. Hudson Open Government Award was created by GPA in 2008 to present to a Georgia publication or individual who has shown support for the cause of sunshine in government through publication, research, legislation or other action deemed worthy of receiving this honor. Would you like to nominate someone for this award? Download the form here: Hudson Award nomination form
* Do you know someone who's served in Georgia's newspaper industry for 50 years? They are eligible for induction to GPA's Golden Club. Download a nomination form to help us honor them: Golden Club 18
* Have you seen a "goof," an "oops," or an "uh-oh" that made it into print this year in your newspaper or one published by a friend? Download a RORAR nomination form so we can good-naturedly poke fun at the mistake during GPA's annual meeting: RORAR
Industries band together to fight newsprint tariff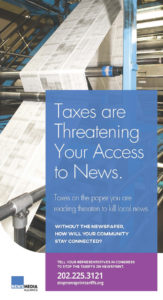 A broad group of industries, including newspaper printers and publishers, have united to fight tariffs on paper from Canada.
The Coalition to Stop Tariffs on Printers and Publishing (STOPP) is asking newspapers to join the fight against tariffs on Canadian imports of uncoated groundwood paper, which includes newsprint used for newspapers and other printed materials.
The government is now collecting these duties, and Canadian manufacturers are already passing these new taxes on to newspapers. The coalition has heard these tariffs have driven up newsprint prices by 20 percent to
30 percent.
See the April issue of Georgia Press Bulletin for a full report and for suggestions on ways to participate in efforts to end the tariffs. One of the ways is to download and use ads like the one at left from News Media Alliance at: https://www.newsmediaalliance.org/research_tools/newsprint-tariff-ads/
Register for the convention:
Convention Registration Form 2018
Form Submission Options:
Email the completed form to asears@gapress.org,  or fax to 770-454-6778 or mail to:
Georgia Press Association
Ashley Sears
3066 Mercer University Drive
Suite 200
Atlanta, Ga. 30341
Payment options:
Call 770-454-6776, or send a check with the form or pay via credit card / Paypal here: