Industries band together to fight newsprint tariff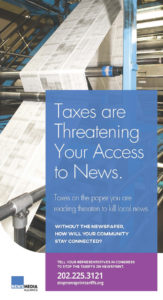 A broad group of industries, including newspaper printers and publishers, have united to fight tariffs on paper from Canada.
The Coalition to Stop Tariffs on Printers and Publishing (STOPP) is asking newspapers to join the fight against tariffs on Canadian imports of uncoated groundwood paper, which includes newsprint used for newspapers and other printed materials.
The government is now collecting these duties, and Canadian manufacturers are already passing these new taxes on to newspapers. The coalition has heard these tariffs have driven up newsprint prices by 20 percent to
30 percent.
See the April issue of Georgia Press Bulletin for a full report and for suggestions on ways to participate in efforts to end the tariffs. One of the ways is to download and use ads like the one at left from News Media Alliance at: https://www.newsmediaalliance.org/research_tools/newsprint-tariff-ads/

New BENN Solutions webinar boosts digital ads
Georgia Press Association and BENN Publisher and Advertiser Solutions are offering newspapers a simple way to turn their websites into small revenue-producing machines that require little to no ongoing maintenance.
For months, GPA and BENN have been extolling the advertising program, about which a publisher of several GPA member newspapers says, "We don't have to do any selling. We just cash the checks."
Is it really that easy?
Yes. It really is.
And if you thought it was too late to get on board, weren't sure that it would work for your newspaper or plain just didn't know about it, there's another chance for you to learn all about the GPA-BENN program: a free webinar planned for Thursday, May 24. From the comfort of your own computer, you can learn that it really is easy to earn extra dollars from quality ads for national companies placed on your newspaper's website.
To register, email BENN's Jack Ratzsch. Don't miss out on a way to earn more money from your newspaper's website.