GPA Content Share LOGIN
Join the GPA's Article and Ad Share network.
Step 1:  Email sireland@GAPress.org  and let us know what member paper you are with and give us your Google email address.
If you do not have a free Google Drive account, sign up here.
Step: 2  You will receive an invite via email with a link to the GPA Article and Ad Share folder.
Step: 3  To access the folder in the future, log-in to your Google drive account and click on the "Shared with me" link on the left hand side (see image below).
Step 4:  Sort through the folders to find the articles or ads you need.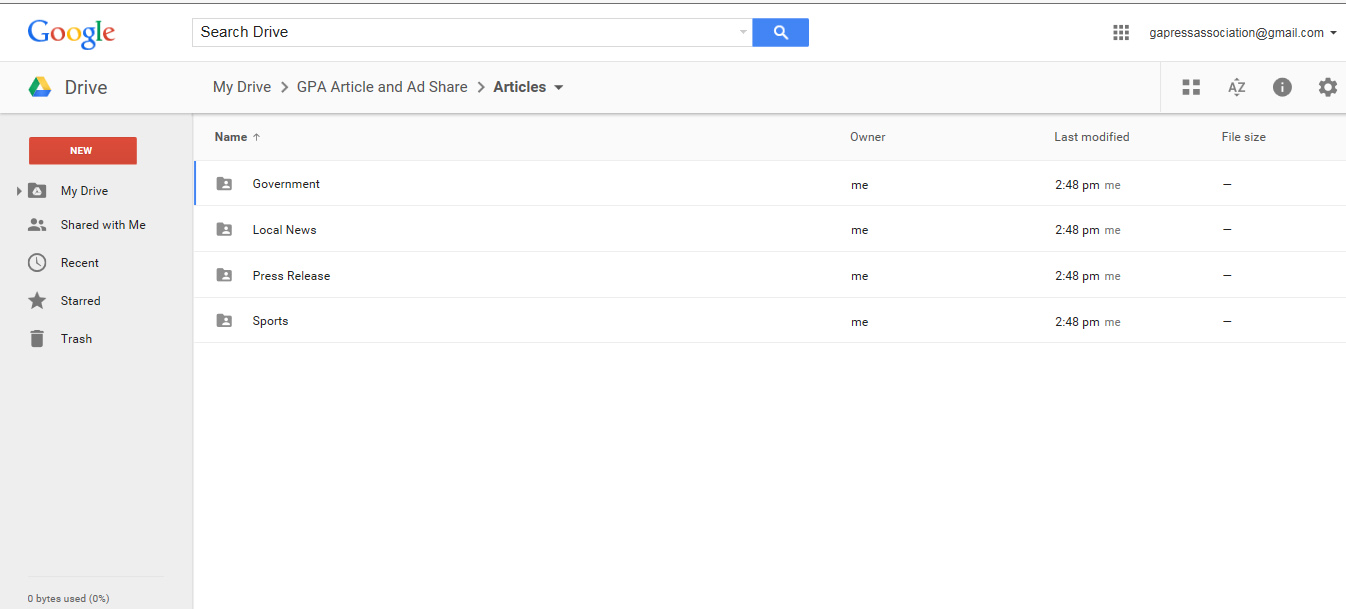 Sharing Content Across Georgia
Mission: Create a network of state news from member work in order to provide credible journalism for Georgia readers and grow healthy communities.
SHARING GUIDELINES
Each news organization controls what it makes available to others.
Contributing news organization can specify platform usage of its content. Example: Print only, digital only, both.
Contributed pieces, photos and graphics will be available for approximately 14 days. Queues will be cleared regularly of content older than two weeks.
All pieces must be properly credited to the reporter/photographer and the originating news organization. Online work should be summarized and linked back to original reporting site.
Accounts may be accessed only by Georgia Press Association member organizations.
Suggested minimums for participants: Weeklies, 3 per month; Dailies, 5 per month
POSTING
All posted pieces should be filed in the appropriate file.
All posted pieces should carry a file name, posting date, town. Example: JailDeath 06052015 Savannah