About the GEORGIA PRESS ASSOCIATION 
In 1887, the Georgia Press Association was founded to bring together Georgia newspapers.
Their goal:
Create an organization, which would protect, promote, foster and advance the interest of the newspaper industry in Georgia.
Today, the Georgia Press Association is still growing, and our members remain among the top business leaders in the state. From rural weeklies to metropolitan dailies, Georgia newspapers are close to the heart and soul of the community in every city and town.
Our members carry out the goal of their early predecessors by securing unity of thought and action in all matters pertaining to the profession of journalism. The membership is guided in its quest by an 18-member board of directors and numerous permanent and special committees.
GPA is active in offering educational and networking opportunities for its members in addition to placing advertising through GPA's affiliate, the Georgia Newspaper Service, and offering scholarships and internships through the Georgia Press Educational Foundation.
ACTIVE MEMBERS
Active membership consists of newspapers who are published for more than two years in Georgia on a weekly basis with a minimum of 50 issues annually and has a bona fide list of paid subscribers plus single copy sales equal to or exceeding 75 percent of the circulation published in its Statement of Ownership.
---
GEORGIA NEWSPAPER DIRECTORY
An official listing of the Georgia Press Association's membership and contact information may be purchased through Georgia Newspaper Service for $30 (plus $5 S&H).
Contact Mary Pat Hodges at 770-454-6776 or by email: mphodges@gapress.org
---
WANT MORE INFORMATION ON HOW TO BECOME A GPA MEMBER?
GPA Staff contact:
Mary Pat Hodges at 770.454.6776 or by email: mphodges@gapress.org
DOWNLOAD:

Georgia Press Association's
Bylaws
Download PDF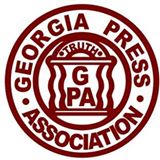 2016-2017 GPA Officers

President
Don Bailey
The Telegraph, Macon
Vice President
Scott Buffington
The Jackson Herald, Jefferson
Treasurer
Otis Brumby III
Marietta Daily Journal

Immediate Past President
Mesha Wind
The Cairo Messenger
Past President Liaison
Buff Leavy
The Brunswick News
2016-2017 BOARD OF DIRECTORS
William Bronson
The Daily Citizen, Dalton
DuBose Porter
The Courier Herald, Dublin

Alan Davis
The Daily Tribune News, Cartersville
Len Robbins
The Clinch County News, Homerville
Mike Gebhart
Gwinnett Daily Post, Lawrenceville
Kathleen Russell
The Darien News
Alan NeSmith
The Northeast Georgian, Cornelia
Michael Traynor
Savannah Morning News
Dan Ponder
Donalsonville News
Dianne Yost


Morgan County Citizen, Madision

Dan Pool
Pickens County Progress, Jasper
Terri Statham


Georgia Electric Membership Corp.